With today's strict regulatory environment, it's essential that lenders consider property condition as part of their overall valuation. While traditional Automated Valuation Models (AVMs) have become a routine tool used in lending, they cannot take into account overall property and neighborhood conditions. AVMProTM bridges the gap by using local real estate a agent to provide a comprehensive on-site property report with neighborhood characteristics along with an independent assessment of the AVM.
Unconventional Conditions
With AVMPro™ we thought it was time to take a novel approach to property condition reports. We're ready to go beyond broken windows and address real subject and neighborhood valuation characteristics.
We know our clients are often thousands of miles away from the subject, and need to know the true condition of the subject as well as dig into local market trends That's why our agents collect over 40 subject and neighborhood related inspection elements.
Automated
Valuation Model (AVM)
Typical Property
Condition Report
Inspection
Property Inspection
Inspection Performed By
Property Inspector*
Real Estate Agent
Overall Property Condition
Subject & Neighborhood Inspection Elements
< 18
40+
Subject Photos
2+
6+
Repairs & Cost to Cure
Optional
Check
Valuation
Automated Valuation Model
Independent AVM Review
Market & Neighborhood Analysis
Agent AVM Analysis
Independent Price Opinion
* The Property Inspector may or may not be licensed or certified depending on local jurisdiction and requirements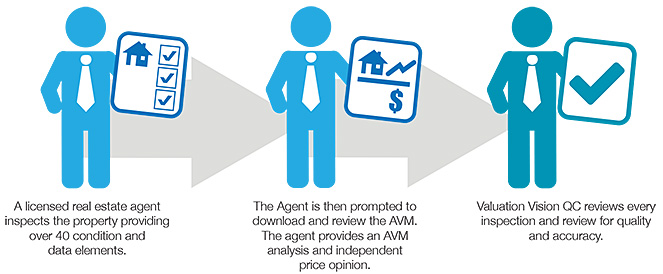 A True Value Add
Unlike similar products, AVMPro is performed by licensed real estate agents, with expert knowledge of local market prices and trends. That means that rather than just adding on a property inspection, our agents review the AVM and provide a qualitative analysis and independent price opinion. Plus, it's designed to work with a selection of market AVMs providing flexibility in application.
Take it to the Next Level
Since AVMPro starts with an AVM, lenders can easily cascade from an AVM to an AVMPro. This allows lenders to manage valuation costs by reviewing the AVM and deciding whether to proceed before ramping up to an AVMPro.